Welcome to the Department of Classics
Classics is a Baylor tradition! From the first years in Independence to the present, the opportunity to study Greek and Latin literature in the original language has been a key part of a Baylor education.
To learn about the ancient Greek and Roman cultures and languages is to possess a key to our own cultural and linguistic roots. The Classical Studies program is interdisciplinary by nature, drawing together fields such as literature, art, archaeology, history, and philosophy of Ancient Greece and Rome. The Program also offers courses in Ancient Greek and Latin, which satisfy Baylor's foreign language requirement.
A background in Classics is of great benefit for students interested in advanced study of related disciplines such as religion, politics, English, and comparative literature. Study of the Classics provides an excellent foundation for students interested in law, medicine, seminary, and professional degrees.
Dr. Hejduk to give lecture at Baylor ISR.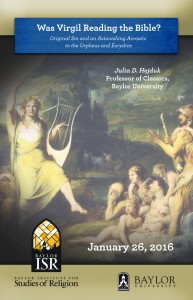 Register to attend this lecture
Her lecture, "Original Sin and an Astonishing Acrostic in the Orpheus and Eurydice," details the finding of a new acrostic in Virgil's Georgics that suggests a connection between the ancient writer and the Hebrew Scriptures. An acrostic is a poetic form in which the writer spells out a word or sentence using the first letter or word of each line in a work. Hejduk will present her findings from 4 to 5:30 p.m. on Tuesday, Jan. 26, in the Cox Lecture Hall of Armstrong Browning Library.
"This paper arose because a friend of mine happened to mention that a student of his doing a master's thesis on acrostics in Virgil had discovered a new one in the Georgics, 'Isaia says,' but decided it was probably just a curious accident," Hejduk said. "The more I looked at the context, though, the more I felt that it was hauntingly appropriate, and therefore probably intentional."