Baylor University Students Win KPMG Case Study Competition, Advance to Regional Competition
Dec. 6, 2010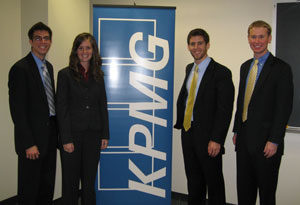 Baylor University students, Ryan McCarthy, Stephen Montellano, Scott Neumann and Emily Phillips have been named as the campus winners of KPMG's International Case Study Competition and will advance to the regional competition in Dallas on January 14, 2011. The competition reflects the Audit, Tax and Advisory firm's commitment to help educate students by bringing the profession to the classroom.
"KPMG and Baylor Accounting have a long history together, and we are pleased to have been selected to participate in this year's KPMG International Case Competition," says Dr. Charles Davis, Baylor's Accounting Department Chair. "The competition provides our students an outstanding venue for demonstrating their research and communication skills. While preparing their solution to the case, the students also see that they can, in fact, deal with uncertainty and ambiguity while developing a logical argument to support a position. The competition is yet another way that KPMG demonstrates its commitment to educating tomorrow's accounting leaders."
Baylor was among 18 colleges and universities from across the country to host the campus phase of the competition. Over 104 Baylor students entered the competition, which took place November 19, 2010 at Hankamer School of Business. Each team, comprised of four students, was given 48 hours to form observations and recommendations on a business case study based on a real life company. The teams presented their findings to a panel of judges, including Houston Audit Senior Manager Camaron Thorson, Dallas Tax Manager Nick Sapp, Houston Audit Senior Manager Bobby Bullis and Dallas Primary Recruiter Elizabeth Pigg.
"We're pleased that Baylor students embraced the challenge of solving the case study and congratulate the winners," said Stacy Sturgeon, KPMG's national managing partner, university relations and recruiting. "We hope that each of the students took away sharpened critical thinking, technical and team-working skills as a result of participating in the competition."
In the upcoming regional competition, Ryan McCarthy, Stephen Montellano, Scott Neumann and Emily Phillips will compete against teams from The University of Texas and Texas A&M University. The regional winner will move forward to the national competition to be held in New York City on February 4, 2011, to compete against six other teams from across the country. The winner of the national competition will travel to Istanbul, Turkey to compete in a three-day competition against the winning teams from over more than a dozen other countries.
About KPMG LLP
KPMG LLP, the audit, tax and advisory firm (www.us.kpmg.com), is the U.S. member firm of KPMG International Cooperative ("KPMG International.") KPMG International's member firms have 140,000 professionals, including more than 7,900 partners, in 145 countries.