Baylor University Represented at Pinehurst Golf Tournament
Nov. 29, 2010
By Nincy Matthew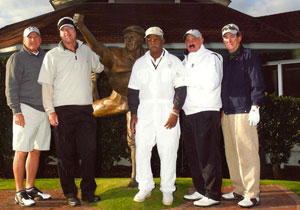 Baylor alumni participated in the Inaugural ACURA Annual National Collegiate Alumni Team Championship Golf Tournament at the world famous Pinehurst Resort, in Pinehurst, North Carolina, November 5 through 7.
Team members included John Ratcliff ('65), Gregg Erwin ('73), Randy Hinson ('74) and Don Montgomery ('74). All of the team members are graduates of the Hankamer School of Business.
The team qualified to represent Baylor at this golf tournament by winning the Baylor Business Network Metroplex Golf Classic at the Cowboys Golf Club in Grapevine, Texas.
"Our group plays in a lot of Baylor alumni fundraisers around the state of Texas, but this was the first time this particular foursome had ever played together," said Hinson.
The first day at Pinehurst saw temperatures in the low '40s with overcast and high winds.
"The first day's round was a grueling six hour ordeal. Which found us in 8th place when all the scores were finally posted," said Hinson.
On the second day, Baylor's team moved up into sixth place out of 61 teams.
"In the top 15 teams, we were definitely the oldest team, with an average age of 61. All of the other teams had an average age of less than 40," said Hinson.
The team finished with a total score of 261, tying for sixth place and finishing ahead of the other Big 12 schools that participated.
"This has been an awesome trip and experience. It was an honor to get to go there and represent Baylor at this tournament," said Hinson. "We were very appreciative of Acura and Pinehurst for putting on such a quality event that basically went off without a hitch."