Baylor University Ranks No. 2 in Nation for Entrepreneurship
Sept. 21, 2010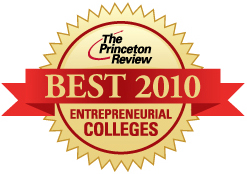 The undergraduate Entrepreneurship program at Baylor University's Hankamer School of Business ranked No. 2 in the nation. Over 2,000 schools were surveyed by The Princeton Review for Entrepreneur magazine in its 8th annual "Top 25 Undergraduate Entrepreneurship Programs of 2010" rankings.
"We've long been seen as a pioneer in entrepreneurship," said Dr. Terry S. Maness, dean of the Hankamer School of Business. "We started one of the first programs in the nation decades ago and it continues to provide thought leadership across the nation."
"Innovative initiatives in Baylor's program include an Entrepreneurship Living and Learning Center on campus and the development of several international programs in China, Africa, the Dominican Republic and Europe," said Dr. Kendall Artz, director of Baylor's Entrepreneurship program. "In addition, the Baylor Angel Network and the Technology Entrepreneurship Initiative bring Baylor's program further dimension and engagement."
Baylor was evaluated based on key criteria in the areas of teaching entrepreneurship business fundamentals in the classroom, staffing departments with successful entrepreneurs, graduating students who actually create new ventures, excellence in mentorship, providing experiential or entrepreneurial opportunities outside of the classroom, as well as non-traditional, distinguishable aspects of their programs.
"Behind the top ranked schools is not only a great formal classroom experience, but a cross-disciplinary approach to teaching entrepreneurship that embraces and encourages a student's vision to build a successful business," said Robert Franek, The Princeton Review's senior vice president of publishing and nationally recognized expert on college admissions.
"The right education enhances and reinforces curiosity and creative thinking in entrepreneurs," commented Amy Cosper, vice president and editor in chief at Entrepreneur. "This ranking provides a unique look at top schools that offer the type of training, encouragement and direction that nurtures entrepreneurial skills. It's an excellent resource for those interested in academics as a pathway to their goals, and it can help tremendously in the discovery process to finding the right program."
The results of the survey, along with the analysis, appear in the October issue of Entrepreneur, which hits newsstands today, September 21st.
About Baylor Business
The culture of the Hankamer School of Business at Baylor University is guided by Christian commitment and champions life-long learning, highly-regarded scholarship and service to others as its highest ideals. The School seeks to produce business leaders with recognized integrity, superior theoretical knowledge and practical skills of modern global business developed through an experiential learning environment. The School engages a diverse group of undergraduate, graduate, and executive students and alumni in a curriculum that produces graduates of value to business organizations and to their communities. Visit www.baylor.edu/business and follow on Twitter at twitter.com/Baylor_Business.