Baylor University Tops the Big 12 in MBA Case Competition
May 7, 2010
By Nincy Mathew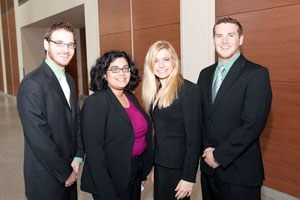 A team of four Baylor students made the trip to Iowa State University, April 23 and 24, to compete against 11 of the 12 schools in the Big 12 Conference and brought home second place, first place among the competitive teams.
The competition helps business students learn and solve common problems that arise in the working world.
The teams are given a case to study that involves a hypothetical problem that a business may face.
According to team member and graduate student Gary Combs, the team had to decide what the next steps would be for Amazon and their new e-book market.
"Their Kindle is the best in class, but they needed to decide if they needed to change anything," said Combs.

The teams have 24 hours to create a solution and present it to a panel of judges.
Our toughest challenge going into the competition was that the team had not worked together officially, said Combs.
The graduate students who participated include Combs, Neelima Gonuguntla, Violet Fuller and Jarrod Beard.
Iowa State University earned first place, Texas A&M University earned third place and University of Colorado earned the sportsmanship award.