Start Abroad Cost
Here is a basic breakdown of the direct costs associated with one fall semester in Waco vs. one semester in Dublin.
All Baylor academic scholarships and need-based awards will apply to this program as if you were on the Waco campus.
Learn more about all the scholarship opportunities and financial aid available to Baylor students here.
More than 90% of Baylor undergraduates receive financial aid, so this "total" could look much different for you based on your situation.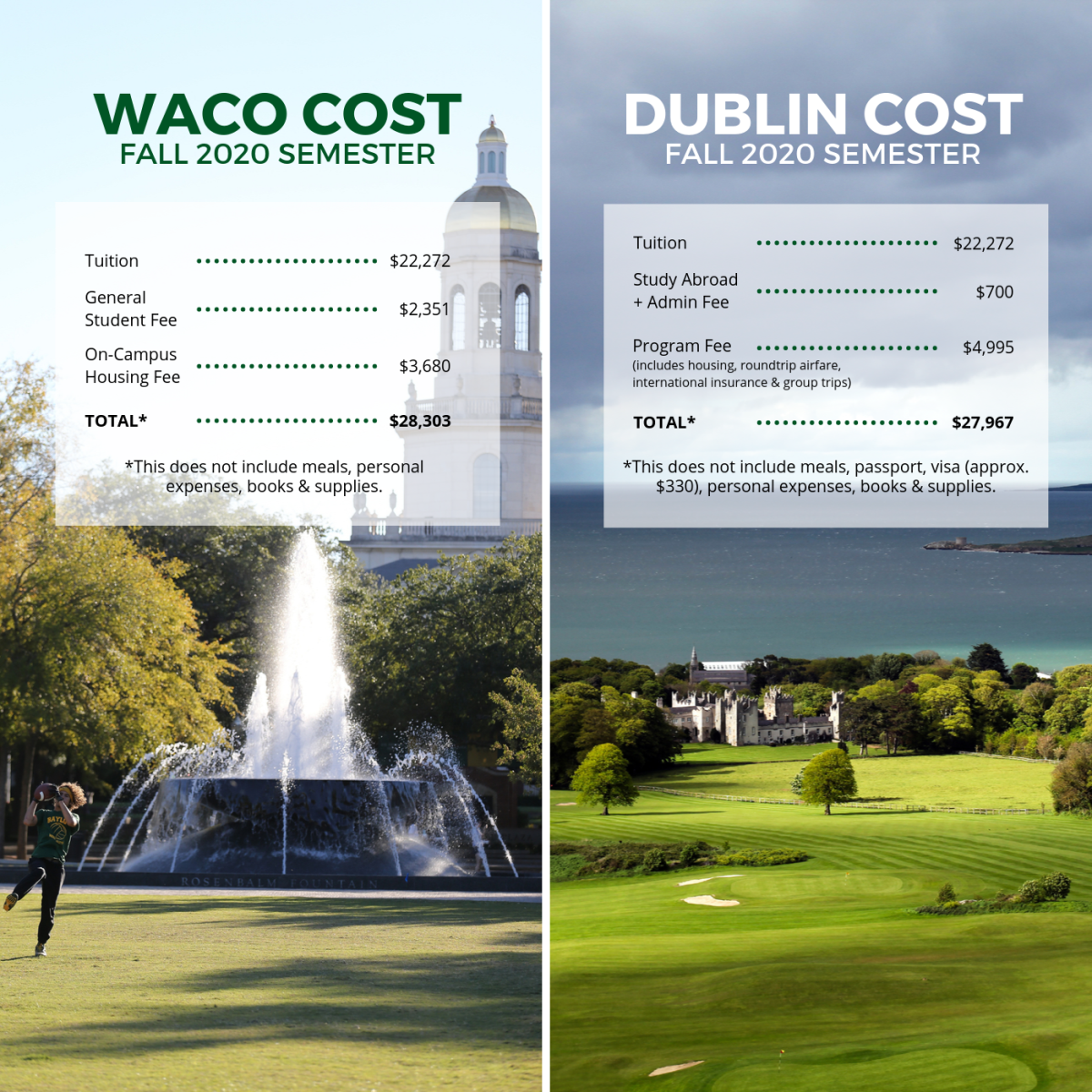 DIRECT COSTS: The Direct Cost to attend the Baylor Start Abroad program is surprisingly comparable (even a little cheaper) than the traditional Waco campus experience.
INDIRECT COSTS: Keep in mind that these costs do not include meals, passport cost, personal expenses, books and supplies that you'll need during your freshman fall semester.
MEAL COSTS: In Dublin, each student apartment has their own en-suite kitchens. Therefore, we encourage Start Abroad students to save on meal costs by by going grocery shopping and cooking at home most days. Additionally, the Dublin Business School (where you'll take classes) has an on-campus cafe, and there are plenty of nearby restaurants if you're looking to eat out.
RECREATION COSTS: In addition to what is already provided for no additional cost (nearby parks, library space, residential building common areas with TV, pool table, computer consoles, study lounge and gym), students also have access to pay at their own expense for local gyms, swimming pools, cinemas, museums, etc.
ADDITIONAL COSTS: An Irish immigration visa fee is required and costs 300 Euros (328 US dollars). Students will need a credit card with them to submit this payment. FIE staff will help students with this once they are in Ireland. For some events such as Leinster Rugby and Abbey Theatre, FIE students get heavily discounted tickets. Most students in Dublin quickly realize that it is a compact city and many choose to walk. However, students can purchase a Student Leap Card that allows them to use any form of public transport in Dublin at a discounted rate.
Adding an international plan to a U.S. phone plan is expensive! FIE recommends students buy an Irish sim card to place inside an UNLOCKED U.S. phone as it much cheaper. 99% of students use the Three Network which is approximately 20 Euros per month ($11).